During one year, I visited an abandoned old factory of food processing plants of rice and treatment « La Rizerie » in Port-Saint-Louis, the last town at the mouth of the Rhône river in South of France.
This industrial complex was built in 1930 (closed in 1970) and has been occupied during the second war by the German Navy for his strategic location in the mediterranean coast.
The brownfield land reveal a lot of discoveries for walkers off the beaten track.
Various buildings ,volumes ,rusty steel structures and machineries keep the stigmata and the imprint of the decay of time.
Nature has reclaimed its rights over a site left abandoned, harsh, inhospitable, and seemingly silent.
Infiltrate this area was a breeding ground for a sonic exploration under different weather conditions.
The main attractive place ,where I decided to start, was a huge empty Metal tank (20M/20M). I realized the most of my recordings ,inside the reverberant silo immersed in almost complete darkness.
The characteristic and topology of the place offer the full potentiality to auscultate with various approaches the intrinsic sonorous properties of this construction.
« Fallow Memory » was built from raw improvisations reflecting the natural acoustics of the place with altered layers of the sound elements produce from this specific location, including the surrounding soundscape.

Jérémie Mathes , February 2015.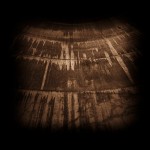 Unfathomless a thematic ltd series focusing primarily on phonographies reflecting the spirit of a specific place crowded with memories, its aura & resonances and our intimate interaction with it…